Dr. Greg Nairn grew up in the Washington area and currently lives in McMurray with his wife and two children. He attended John Carroll University in Cleveland, Ohio where he received his undergraduate degree in arts and literature. He returned to school and obtained his Bachelor of Science degree from the University of Maryland and attended the University of Pittsburgh where he received his degree of Doctor of Dental Medicine.
Dr. Greg actively participates in continuing education courses and is dedicated to the most recent advancements in cosmetic dentistry and latest technologies.
Dr. Greg utilizes advancements in digital imaging which enables his patients to preview their smile prior to the start of treatment and the use of sophisticated digital x-ray and intra-oral cameras. He performs all dental procedures including crowns, bridges, tooth colored restorations, partials, veneers, implant crowns, and dentures.
Dr. Greg is an active member of the American Dental Association, Pennsylvania Dental Association and the Spear Study Club. Since 2010, he has been nominated by his colleagues and and has been awarded the distinction of "Pittsburgh Top Dentist" by Pittsburgh Magazine. He has received a 98% satisfaction rating and 4.9 out of 5 stars on over 800 certified patient reviews.
When Dr. Greg is not practicing cosmetic dentistry, he spends most of his time with his family. Locally, he is a sponsor of the American Cancer Society, Brownson House, Washington Women's Shelter and various other civic organizations.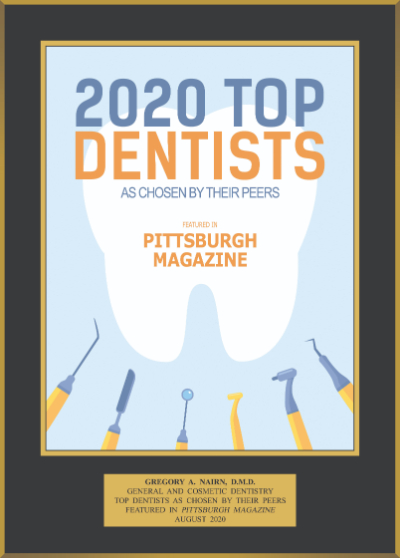 Our Location
131 S. College Street

Washington
,
PA
15301
New Patients:(724) 409-4038
Existing Patients:(724) 228-3142
Follow Us